What is Marketing?
Marketing is a way to promote your products or services. The purpose of Marketing is to get the message of your brand, and offers delivered to as many people as possible that may be interested in what products or services you have to offer.
How Does SEM (Search Engine Marketing) play a role in this?
SEM allows you to market your product and offers through the Search Engines, like Google, Yahoo, and Bing for example. Search engine marketing is one of the most effective marketing techniques that allows us to drive qualified leads to your business. With SEM, we can provide a quick and effective way to be found on the search engines because we are able to bid on specific keywords related to your products and services. We can target people who are already interested in you, and with SEM we can provide exactly what they are searching for.
How can SEM Benefit your Business?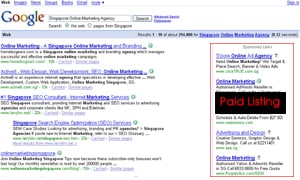 When people search online for a product or service they are usually in a buying stage. We use SEM to target your product and services so that when someone searches for a specific product your ads will show in the search result listings. SEM allows us to literally place your business in front of the people looking for you and bringing these prospects to your websites and converting them into a customer.
Lead Generation:

SEM will drive targeted traffic to your site 24/7.

The Internet never sleeps. When your site has visibility on search engines, you are going to get targeted traffic every hour, of every day. Millions of searches are conducted every day as people look for websites, information, products and services. With search marketing, you can definitely get more targeted traffic to your website.
Cost Effective: When compared to other traditional advertising media, search marketing is definitely more cost effective. Search engine traffic is more targeted which makes it easier for you to convert prospects to customers. We are also able to measure your response with Google Analytics so that you know how effective your campaign is, and with SEM you can see results right away.
Brand Building: When your website has high visibility on search engines, you are showing your prospects that your business is an authority in your respective brand or industry. When searchers see your website often, they will remember your brand. Even if they do not need the product or service now, they will think of your brand first when they need it in the near future.
Stay Competitive: Do a Google Search with some keywords related to your business. You will see that most of your Competitors are already leveraging SEM, and are taking business away from you. Stay competitive in your industry with SEM.
Major search engines like Google account for more than 90% of all search engine traffic. SEM allows you to leverage your business in Google's playground to get the maximum exposure to your business. Be seen in your industry with Search Engine Marketing. To find out how you can get started Contact Us today!
Article Source: EzineArticles.com