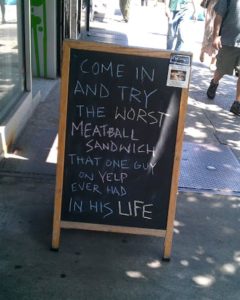 So you got a 1-star review on Yelp. Your first instinct might be to get this thing removed ASAP! Having negative reviews on Yelp can feel like someone protesting right outside your place of business. It's hurtful because you know that the business you manage is better than that… It's very important to take a step back and read the review. Actually read it, and try to understand the situation from the customer's perspective.
Ask yourself, does the reviewer have a legitimate complaint? A review for "the worst meatball sandwich" reads very differently from a review for "the meatball sandwich was served cold and the bread was stale." Figure out what was inadequate about the product or service you provided. Once you have figured out the root of the problem, then you can prepare to respond publicly.
Start off by thanking the customer for their business and feedback. Then go into specifics and mention the root of the problem and what changes you are going to make in order to prevent that from happening to another customer. Perhaps, you can make them an offer to try out your product again. Once you establish a relationship, you could regain the trust. Plus, this helps new customers see what you are willing to do to keep a customer, and for a small business, this could mean a potential new lifetime customer.
E.g. "Mr. Customer, thank you for taking the time to visit our restaurant and trying out our meatball sandwich. We are so sorry that the sandwich we served was not up to your standards. It's very important to us that this never happens to another customer again. We have a manager on-site that is overseeing the sandwich making process and keeping track of all the important factors that make a good meatball sandwich. Please give us another chance, come by anytime for a free meatball sandwich on the house! Bring some friends… we promise not to disappoint you again."
Responding publicly is the best way to show that you value customer feedback and that you recognize the need for improvement. You can also start with privately contacting the user to apologize and offer your side of the story. Especially if the review contains false information, explain the misunderstanding privately so the user doesn't feel like you are calling them a liar. Attempt to resolve the misunderstanding and get a sense of whether or not the user is empathetic of the situation.
E.g. "Dear Mr. Customer. I'm the manager of Joe's Deli. I wanted to take this opportunity to apologize for the misunderstanding that led to your 1-star review on our Yelp page. I was the on-site manager that day, and we were completely out of meatball sandwiches. Our deli is famous for its meatball sandwiches, but because of the football game, we sold out during lunch! We put up signs apologizing for the meatball shortage and offered a 50% off discount on all of our hot sandwiches. When we spoke, you were upset and I wanted to offer you a free meatball sandwich on your next visit. It was our fault for underestimating the large demand of the meatball sandwiches and we would definitely like to make sure that all our customers get to experience our famous meatball sandwiches. My offer still stands. Please give us another chance, come by anytime for a free meatball sandwich on the house! Bring some friends… we promise not to disappoint you again."
If they are still upset, you may choose to publicly acknowledge their comment, apologize for the misunderstanding, and refer to your private message for a conflict resolution.
E.g. "Mr. Customer, we sincerely apologize for the misunderstanding. We simply ran out of meatball sandwiches that day. Unfortunately, we were unable to resolve this issue with you when we sent you a Private Message last week. We value your business and feedback, please let us know if we can further assist you."
Whether it's a meatball sandwich, a tax preparation service, or a bathroom remodel… your best way to deal with bad reviews on Yelp is to reach out and make a personal connection. By understanding your harshest critics, you can make improvements to provide better customer service and turn one-time customers into lifetime customers.