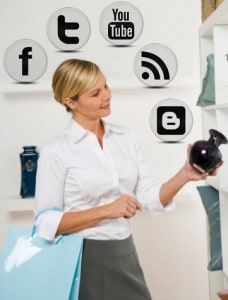 Ever find yourself wincing as a standup comedian's tries to recover from a one-liner that fell flat? It's painful to watch because you know that the comic can tap his microphone and ask "Is this thing on?" all he wants, but the crowd won't laugh until he starts telling better jokes. It's also a great reminder that if you want your social media marketing campaign to generate interest and brand loyalty instead of awkward silence, you need to be tightly focused on engaging your audience.
Fortunately, there's an easy way to do that: Always think about reaching your CUSTOMER.
C – Communicate, Connect, and Care
Social media is not a one-way broadcast medium. A television commercial or a magazine ad may be all about calling buyers to action, but social media is about having a conversation. It's an amazing opportunity. Your business gets a chance to establish a real connection, show that it values its customers as people, and express a genuine desire to serve them. The key is to be responsive. When people comment or ask questions about your posts, take an interest and get back to them quickly.
U – Unlock
Followers and friends expect your social media presence to be real and unguarded. They want to get a sense of what goes on in your business. They also want to understand what other customers think of your brand. Social media is a wonderful space to enhance your level of social proof, but always keep it authentic. If a customer posts something critical, think twice before hitting the delete key. A whiff of censorship or a sign of whitewashing can ruin a great campaign.
T – Track Conversations
Think of social media as a market research wonderland. Listen to what customers are saying about your products, your reputation, and your management. Chart it out and look for trends. Not many years ago, getting this kind of input would have meant hiring a consultant and running endless focus groups. Today, it's yours for free, as long as you're willing to pay attention.
O – Open Eyes, Ears, and Mouths
If your business is large enough to have several departments, make sure your social media campaigns don't get locked away in marketing. Everyone involed in the day-to-day operations of your business should see what followers are posting. Everyone should listen and consider customers' input, and everyone should have the chance to lend their expertise as you formulate responses.
M – Measure
Social media may seem like a soft discipline, but that doesn't mean you can afford to run a campaign without measuring its impact. Adopt a relevant set of metrics and track your return on investment. Conversely, use the metrics you gather in other facets of your business to tweak your social media campaign. Chances are you've learned a lot about your customers over the years. Put that information to work strengthening your online presence.
E – Excel
Never do anything half-heartedly in a social media channel. Use questions and complaints as a chance to provide superior customer service. When you put offers in front of your audience, make sure they're amazing. Always do the right thing. If you impress your followers, you may see one of your posts go viral. Nothing else—absolutely nothing—can get your brand if front of new prospects more quickly than doing something that inspires their friends to "share" or "like" your post.
R – Reward the Community
No one has to follow you on your social media channels; they choose to do so. Make sure you treat them well. When thanks are in order, offer them proudly and publicly. When you have a terrific deal in the works, give your followers the first chance to take advantage of it. These kinds of actions build fierce loyalty and may turn your customers into your best advertisers.
The CUSTOMER acronym is a powerful way to keep your social media marketing campaign on track, so consider keeping a copy handy. Refer to it regularly and reap the rewards.