If you are not marketing with moms in mind, you're missing out on a big business boost. Several studies show that the so-called "Mommy Market" is a trillion dollar goldmine. Moms of all ages are eternally interested in shopping. If you want a piece of that trillion dollar pie, read on for several small business tips on how to tap into that market for free.
Don't spend your dollars advertising; Your target market will advertise for itself.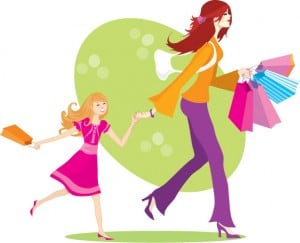 You don't need to spend thousands of dollars on a marketing campaign for your wonderful product to become a household item. According to the Business News Daily, some moms actually find overt advertising to be offensive. They may decide not to buy your product just on the basis that it was advertised through an aggressive, in-your-face marketing campaign. They would rather find out about your product in a more subtle manner, and luckily for your small business, the kind of advertising that it preferred is also easier on your budget.
Use SEO on your web site to target moms.
Search Engine Optimization (SEO) has long ago been deemed as a very effective marketing tool. The objective is to feature specific keywords in your web copy which will rank high in search engines, like Google. Moms love to research products on Google. In fact, they prefer doing that over watching television commercials. Keeping your visibility high on search engines is one of the most convenient ways to get noticed and gain traffic to your site.
Maintain a presence in social media.
Social networking sites such as Facebook and Twitter are universally loved by moms. These online communities have been embraced by multiple generations: From baby boomers, to the X generation to the moms of the new millennium and beyond. Social media sites are the modern day front porches and backyard fence hangouts where moms go to give and get advice. If one mom sees a product she loves on Facebook, she'll share it and her post will end up in the status feed of all of her mommy friends. Talk about digital word of mouth marketing!
Word of mouth marketing is not obsolete.
Getting caught up in the digital age and forgetting about the ultimate classic form of free advertising will result in a disadvantage to your small business. This is especially true if your small business caters to the local community. While everyone else maintains mostly online relationships because of busy schedules in today's I-centric society, moms still get together socially–and they talk! Play dates, mommy and me classes, mothers' support groups–you name it, moms go there. They talk about their kids, their spouses, and of course, they talk about shopping. Recommendations from fellow moms are sacred. If your business or product makes it onto that exclusive list of word-of-mouth favorites, you win the golden ticket.
Flyers and even physical appearances where moms might gather will enhance your small business's word-of-mouth marketing prospects. Moms love to be educated, so educate them about a related topic and pitch your products or services to them in the process.
Moms are the ultimate "people persons". Though the prospect of targeting such a diverse group of potential customers may be daunting, it can bring great rewards to your small business. It's worth focusing your time and skills on targeting the "Mommy Market", especially if you can do so for free.