Today's PowerSites blog is a guest post, written by Nicolas D'Alleva, the Marketing Coordinator for SpecialtyAnsweringService.net. His area of expertise is call center technology and business productivity.
---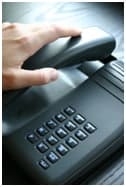 Effective customer service is one of the most critical components of successful small businesses, and one of the most time consuming. When you couple these factors with the stress that can come with talking to an irate client, things can start to spin out of control quickly for the small business owner.
Here are five reasons why using a call center will improve your customer service experiences:
Represent your brand's name all day, every day
Nobody likes to get a call from an angry customer at two o'clock in the morning. Eliminate this frustration by having your calls forwarded to a call center. They can answer all of the "urgent" requests at any hour of the day, and they can also decide which messages are best sent your way in the morning. By creating a constant line of communication between your company and your clients, you promote brand loyalty and ensure that your customer base is made to feel special.
Use outbound calling to generate sales
Call centers can help support and contribute to the work of your sales team. By outsourcing some of the work of your sales department to a call center, you will be able to target more customers in a given day. With live voice completing these outbound calls, customers still feel like they are talking to a sales representative (as opposed to a robot), without that person actually being an in-building member of the sales team.
Expedite order processing
Provide an answering service with your order filling software (some come already equipped with these) and they can begin to process customer orders. They can also help to process shipping of your product. You need no additional hardware or tech in order for these call centers to perform these services; you simply forward your incoming calls to a designated number.
Schedule appointments and forward messages
Again, by simply forwarding your incoming calls to an answering service, they can automatically update your calendar software to reflect new appointments and meetings. You set the parameters for scheduling, and the call center does all of the grunt work. With limited guidance, they can decide which messages you need to see right away, which can wait until the end of the work day, and which should be ignored altogether.
Provide customer service professionals
Call-center technicians are highly trained professionals who specialize in customer service. They know how to de-escalate the situation when a client becomes frustrated; they know how to direct the client to the appropriate departments; and they know how to be courteous at two o'clock in the morning (you, meanwhile, will be fast asleep). These individuals will make every customer service experience a positive one, and will leave a lasting impression with your client base.