By Isaac Taylor, PowerSites Jr. Product Manager

What are SEO and SEM?
SEO (search engine optimization): The process of optimizing websites for inclusion in organic, or non-paid, search engine listings.
SEM (search engine marketing): The process of marketing web sites through internet search engines using non-paid as well as paid channels.
Is SEO a part of SEM?
Yes. SEO is leveraging the non-paid listings of search engine result pages (SERPs) and is considered to be part of the SEM channel.
How is SEO used in an SEM campaign?
The process of optimizing a site for search engines includes one or more of the following:
Placing relevant, high quality content on a site.
Optimizing keywords to match the site's content.
Keyword rich meta tags
Entering geo-locators if the site should found by people in a specific geographic region
Back-link building
Properly structured sitemaps
Adding multi-media and graphics with correct alternate text
By correctly leveraging the elements listed above, which will be discussed in greater detail in a later post, you can influence search engines to give more weight to your site over your competitors' sites. If a search engine believes that your site has more relevant content for your target keywords than your competitors' site does, then your site will be listed higher in the organic search results area when people search for those keywords.
Though SEO is an ongoing process, once the foundation has been properly laid, you'll be able to focus on and move forward with other elements of your SEM campaign.
What else falls under the SEM umbrella?
Search engine directory submissions and management
Paid inclusion
PPC (pay-per-click)
Link building and management
Performance monitoring and reporting
So…Pay-Per-Click isn't the same thing as SEM either?
Correct, pay-per-click (PPC) is only a single part of an SEM campaign. Many people have mistaken PPC and SEM as being the same thing; however, PPC is just part of a much larger endeavor to get your site found online.
Where are the organic and paid listings on a Google search result page?
Paid listings can appear at the top of the page, the right hand side of the page, and sometimes at the bottom of the page.
Organic listings will appear in the middle of the page if there are paid listings above them. If there aren't any paid listings above them you will find the organic listings beginning at the top of the page.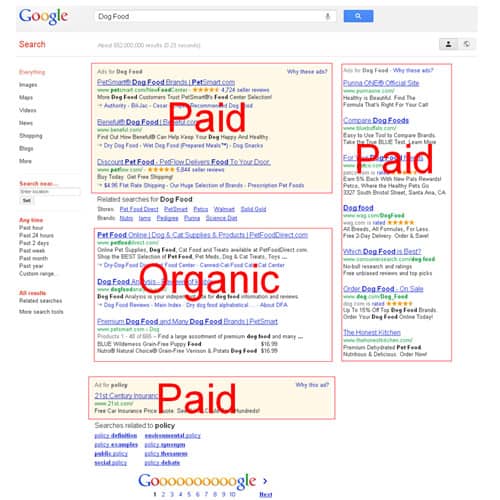 SEM contains many tools that can help you increase exposure to your web site using both paid and non-paid channels. By leveraging such tools as SEO and PPC you'll see the quantity and quality of your site's traffic improve.