Every few days here on the PowerSites Blog we will be featuring a business that is currently using our service and show you a few of the advantages to putting yourself on the Web with a PowerSite. Today we want to talk about Tire Pros, located in beautiful Victorville, CA.
Although only a Tire Pros dealer for the last 8 years, this location has been serving the people in the Victorville area for over 25 years. They have the latest equipment, trained and certified technicians, loaner cars, easy payment plans, road hazard policies as well as roadside assistance and military & senior discounts. As far as services go, Tire Pros offers wheel alignments, lube and oil changes, tire pressure monitoring systems checks, shocks, car/truck batteries and will install Lowering and Lift Kids.
Tire Pros is located at 12850 Hesperia Road At Nisqualli Road, near the ARCO Station in Victorville, CA, 92395. They can be reached by phone at 760-973-4418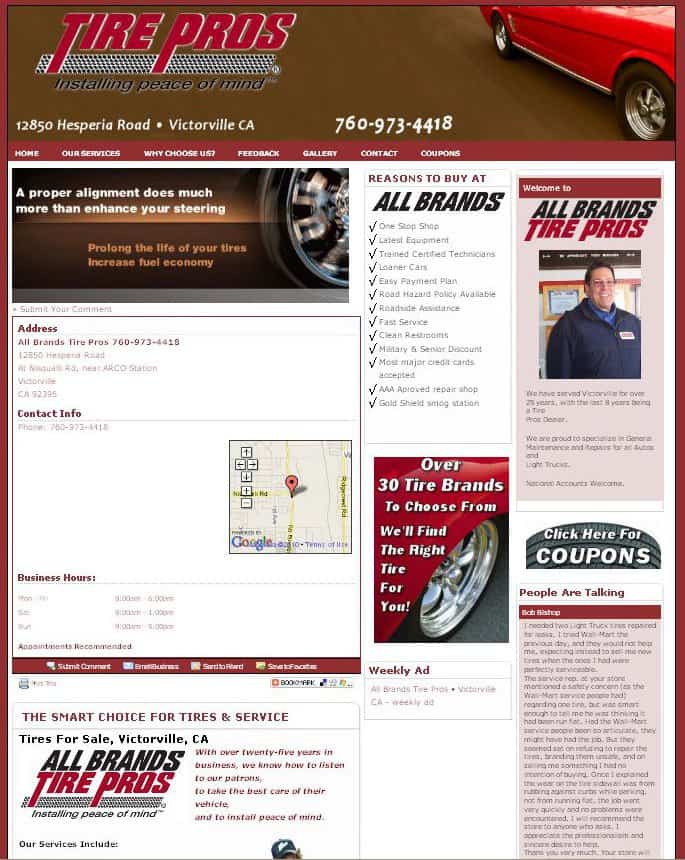 The Tire Pros website offers all of the possible information that a customer looking for tires or service in the Victorville area could want. Just their front page offers a Google Map to help locate the store, a list of all of the services that they offer, links to coupons, contact info, a picture gallery, customer testimonials, a detailed list of reasons to use them over the other guys and an area for customers to leave their own feedback about the store. Their site has everything needed to help potential customers find their business and have a good idea of what they offer when they get there. To visit their site go to http://tireprosvictorville.com/.
If you're in need of any of the above services and you're in Victorville, you know where to go! And if you want your local business to be found on the web, you need a PowerSite!