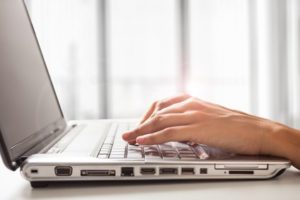 You have a blog? Join the club. You're competing with millions of Web content pages and other blogs for a reader's valuable time, attention and page view. There are 59 million WordPress sites alone. More than 51 new websites launch each year, notes website monitoring company Pingdom. Ensure that your blog is a one-of-a-kind online destination with these marketing tips, and make sure you do the following:
1. Lists, Info Graphics, Images, & Blurbs
According to the Nielson Norman Group, a market research firm, only 16 percent of readers follow a blog post word for word. Nearly everyone scans the content to find the most relevant, interesting or entertaining information as quickly as possible. Build readers' trust and keep posts brief. Include plenty of visual support, such as images, bullets, numbered lists, and informational graphics to drive your point home.
2. Blog Post Email Promotion
Neil Patel, founder of online analytics and marketing companies Kissmetrics and Quicksprout, says email messages drive 14 percent of traffic to a website or blog. Building email campaigns with a responsive design ensures messages can be read on any device. Keep the formatting short and simple. Nearly half of all email messages are read with mobile devices, according to email marketing company Yesmail Interactive.
3. Community Building & Social Media
Building a community and loyal following around blogging content helps maintain, and even drive, traffic. Readers invested in your content will re-share posts on Facebook, for example, that they see as worth promoting. For word-of-mouth blog marketing, make sure that you:
Post original, unique blog articles that speak directly to the reader
Post a blog link on all social media channels to announce a new post
Respond to social media comments and engage in active dialogue
Post updates on promotions, sales and events
You may attract a number of unique visitors, but the following pointers will retain them.
Host contests and giveaways on social media to engage visitors
Capture email addresses with free offers
Survey a reader after a blog view
4. Topics & Posting Schedule
If you can generate enough topics to keep your content fresh and your readers engaged, write as often as you can. Aim to post at least one piece of original content per week to stay relevant to both your readers and search engines.
Avoid space filler copy, and always write with a genuine interest in the topic. Enthusiasm will naturally be conveyed with your words and tone — a few lackluster articles can cause readers to hit the unsubscribe button.
Be sure to create a content calendar that's topically fluid, rather than sharing random ideas and stories. Be open to inspiration and develop a high-level plan that keeps your blogging on target.
5. Mobile
According to an email marketing survey by Constant Contact, 44 percent of Americans own a mobile device, and 43 percent of those users open an email message on a smartphone or tablet. Promote featured blog posts and sweepstakes through email blasts that can be easily read on mobile devices. You'll also want to go mobile from the business side. Acquire a guaranteed wireless connection with a portable Wi-Fi system from a website such as www.wirelessinternet.net. The capability to post remotely helps you meet your blogging goals in a timely manner.
6. Expert Citations
To obtain authority and credibility, cite evidence that supports a specialized topic if you are not an established expert in the field. Not yet a seasoned expert? Write with veracity and conviction or let your personality shine through with words to express a point or entertain.