Forbes online reported that according to an Echo Research survey, Small Business Saturday was celebrated by one hundred million people in 2011. Events and promotions across the nation drew shoppers into stores looking for discounts and specials in support of their local merchants.
Hyperlocal marketing, targeting your local neighborhood, has been a successful tool for small business owners to draw in community shoppers since Colonial times in the United States. Today street hawkers and vans with loud speakers driving the streets are not as prevalent as they once were, but the results are still remarkable. Here are some small business tips from PowerSites with ways to capitalize on this special day.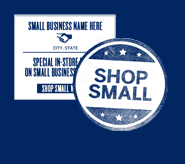 Banners and Signs
Make your business stand out among the other retailers on your block. Hang banners, post window signs or use a sidewalk board to show your store is participating in Small Business Saturday. You can use your own signage, or download personalized signage from American Express
Cause Marketing Strategy
Team up with a local organization, non-profit, animal shelter or other cause by making a commitment to donate a portion of sales to support the community.
Build a Web Presence
Posting coupons on your blog or website, advertising specials only-seen-online and other internet marketing tools keep your customers engaged. Tracking visits and purchases helps you tailor your strategy to your local market, too.
Print Advertising
While local news today may not draw readers with stories about the demise of pirates like Blackbeard—like the May 2, 1761 edition of the Boston-Newsletter did—online and print classifieds are still an excellent place to spread the word about your own promotions and special offers. Classified ads are perfect for listing everything from custom drapes to teacup poodles. Potential customers can quickly locate information sorted by category. You can
Email Marketing
Using an email marketing template to contact everyone on your client list saves time and money. This small business tip is perhaps one of the simplest ways to reach out to past customers to extend an invitation to your store.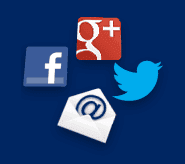 Social Media
Along with your email marketing campaign, spread word of mouth via social media pages like Twitter and Facebook. Post a special discount for followers or Facebook friends to drive traffic into your store. Word of mouth is still the most reliable way to increase traffic. If you're not sure what to post, you can get free pre-written content for Twitter, Facebook and blog posts from American Express.
Mobile Marketing
Don't limit yourself to "one-day sales". You can capitalize on Small Business Saturday traffic by encouraging every visitor to sign up for text alerts and coupons in the future. Have a drawing for a specialty item, a gas card or a store discount pass to encourage participation
Using these small business tips for hyper local marketing will get you on the right path for a successful Small Business Saturday and help you ride the wave into the Christmas season and beyond!