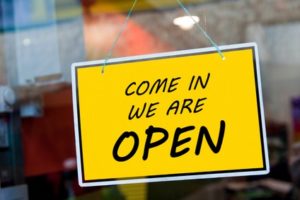 Seven out of 10 small businesses survive at least two years, and half of all new businesses make it at least five years, according to the U.S. Small Business Administration (SBA). But these numbers aren't just dependent upon the viability of the businesses themselves—they're also a product of the economic environment in which they were created. Many businesses struggled to stay afloat during the economic recession that began in 2008, but an improving economy means we're seeing new business growth in many areas of the United States. Some areas are recovering better than others, though, and while opening a new business in economically uncertain times comes with additional risks, there are still plenty of opportunities for those businesses to succeed—particularly if would-be entrepreneurs take steps to create greater stability for themselves. Here are some tips from PowerSites to make that happen.
Make Sure You Have a Viable Market
Every business needs customers to succeed. Before you put any money into your venture, make sure the market for those services is present in your area. You wouldn't want to open a new home construction business in the aftermath of the burst housing bubble, because no one was looking to build or buy homes at that time. Conduct market research to make sure you'll have a viable consumer base. Work that research and other affirming facts about the opportunity into your business plan.
Get Your Financing in Order
Financing can be tough to find in an economically depressed area, and it may force you to get creative with your fundraising. Self-funding is good if you can afford it, but otherwise you might struggle to get large business loans from banks. Investors, meanwhile, may be hesitant to invest money into a struggling economy unless they feel very optimistic about your venture.
There are other options to obtain startup capital. If you receive regular payments from a structured settlement, lottery winnings or a nonqualified annuity, these can usually be sold for a lump sum to generate liquid cash. While selling your future payments will not bring in the entire cash value of an annuity, it may be worth it to come up with the necessary capital now.
Seek Local Assistance
In times of economic struggle, many city and state government agencies create relief programs and other incentives for new and existing businesses. Small businesses are a key factor in economic growth, and most local and state governments understand they need to support these ventures if they want to facilitate recovery. This relief and assistance may come in the form of tax breaks or deferments, low-interest financing, small business startup resources and other support. Make use of the resources the SBA offers, and also contact your local and state economic development offices to find out about local programs and incentives.
Maintain a Low-Cost Profile
Regardless of your financial situation, any new business owner should be frugal with spending and take advantage of ways to save. Whether that's by sharing work space or working out of your home for a short period of time, a low-cost profile helps you earn the good graces of conservative banks and potential investors who want to see large profit margins or the potential to generate big earnings against nominal expenses. These modest costs will lower your break-even point and the liability you face in any given month. And, if things go well, low costs could accelerate your plans to expand your business.