It's important to navigate the world of mobile marketing so you can connect with customers on the fly. While a generation ago customers could depend on newspaper ads, television commercials and billboards for finding the latest products or sales, now you can find all of this in the palm of your hand via a mobile device. Discover how your small business can benefit from going mobile with these marketing tips.
Texting and Emailing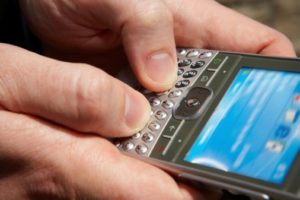 Do you remember beepers? Text messaging sent that the way of the dinosaur, thanks to the innovation and application available via smartphones. Now you can text your customers with information about discounts or sales, or use text messaging to send out coupons for services or products. Additionally, email is making a comeback in the form of mobile email communications. Sit up and take notice to the idea of sending bulk emails, similar to old-fashioned newsletters, with the latest information regarding your business. Add valuable tips and articles related to your business that will keep your customers plugged into your email messages. Follow these tips for successful email marketing campaigns.
Going Online
Want to increase your potential customer base? Go to where the customers are—online on their mobile devices. By creating a mobile website, you increase your visibility ten fold. Notice the words 'mobile website.' Unlike a traditional website, accessible on a laptop or desktop, a mobile website requires different configurations to make up for the differences in accessibility. For example, while images and videos score big points with standard web pages, mobile web pages take much longer to load and these graphics pack less of a punch.
Face-to-Face at Local Events
Who can resist the irresistible lure of your convincing sales pitch? No one. That is why in-person events, such as vendor booths at community functions and fundraisers, offer a great opportunity to make potential sales. While these events will only involve a small percentage of the local community, being able to have direct contact with individuals is an optimal marketing strategy. How can going mobile increase your efficiency for events? According to Direct Marketing News, 81 percent of small business owners plan to increase their use of mobile marketing for upcoming events via:
Advertising
Ticketing
Scheduling
Sending related information, such as speaker biographies, to potential attendees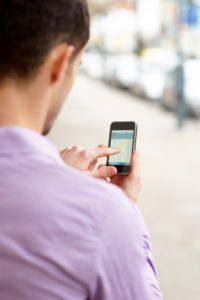 It's All About the App
According to a study by AT&T, 70 percent of owners of small businesses use mobile apps regularly to keep themselves connected to associates and customers. Apps provide functions including organization, connectivity and computer programs for cheap. Notable types of apps that are useful for business owners include:
Mobile credit card payment systems
Portable scanners that make images of documents
GPS/mapping
Scheduling and organization for events and meetings
Social connectivity with customers via Facebook, Pinterest, Twitter, LinkedIn, and/or Google+
The world of marketing is ever changing. Continue to keep up to speed with the most current marketing and mobile news so you can stay ahead of the curve by subscribing to our PowerSites blog.
Do you have any other small business tips for using mobile devices to meet business marketing goals?