The Holiday Season is in full-swing, and for small business owners, that means a potential increase in revenue. While the boost may come organically, just because of the sheer timing and necessity of the Holidays, it's still very important to engage in Holiday promotions and marketing strategy to get the most out of the Holiday rush. Here are just some of the top marketing tips and strategies small business owners should be implementing for the Holiday season.
Optimize and Update Your Website
Updating your website with relevant keywords and content should be at the very top of your Holiday to-do list. Use keywords that are relevant to what product or service your business offers. Use relevant "Holiday" keywords like "gifts, free shipping, holidays, Christmas, New Years, sale, limited time, special offer", etc. If your site has a blog, blog about your Holiday specials, or holiday-themed topics. Update store hours on your website and phone prompt, if they're different for the Holiday season. If you don't already have a website, now is definitely the time to get one. If you need help getting a website, contact our PowerSites team and they can help you launch your online presence.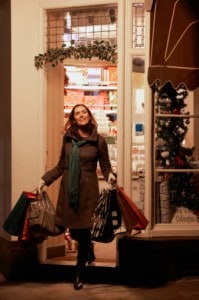 Holiday Coupons
Coupons are a great way to generate buzz and interest about your business. Holidays are a great time to promote coupons, good for both service and product-centered small businesses. You should use all channels of advertising to promote you coupons. Promote your coupons online via your website, email marketing and social media channels, and also through traditional print advertising in your local classifieds or with fliers and postcards. Just be sure to run a promotion that doesn't hurt your bottom line.
Email Marketing and Social Media
Like mentioned before, it's important to use all marketing channels to your advantage. Not only for promoting your coupons, but for staying engaged with your customer base. Whether you have special holiday promotions or not, it's important to stay connected with your customers. If you have an existing customer email list, send out an email to the list wishing everyone a happy holidays and new year. If you already have a Facebook Business page, Twitter Account, Yelp, or Google + Page, post a status update to your social media accounts wishing everyone a happy holidays. You may not have a promotion to advertise, but you'll show up in their inbox and news feed, and if they weren't thinking about your business before, you're now on their mind, which may prompt them to visit your store or website. Effective email campaigns can have a big impact on getting customers into your store and purchasing.
Search Engine Marketing
Geo-targeting and hyper-local advertising will be key during the Holiday season. The Holidays creep up on everyone, and most people leave their gift-buying to the last minute, which means they're on a time crunch and will shop locally to get what they need. It's important to have an SEM campaign running prior and during the holidays, so you will rank higher in the search results. If you're not sure where to even start with search engine marketing, contact our PowerClicks team to help you get started.
What are some other Holiday marketing strategies that have worked for you?